K'rell Warper

We have only recently become aware of the K'rell. Little is known about these strange beings; some have speculated that they inhabit a different universe or plane of existence than us, others propose that the K'rell are in fact the forgotten masters of Vanguard, yet others have suggested that the K'rell are not a species at all, but are the remnants of a fleet of intelligent ships that were trapped in hyperspace eons ago.

Whatever their origin, the Mon Saar have apparently found a way to communicate with the K'rell, as K'rell ships and technologies have begun to appear alongside Mon Saar forces. Some have suggested that the K'rell might even be the masterminds behind the recent Mon Saar attacks.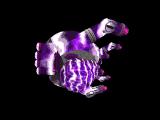 The Warper class of K'rell craft encompasses several designs, all of which are able to shift their position in normal space with extreme accuracy. This enables them to instantly appear close to enemy craft, fire their weapons, and withdraw back into hyperspace.
Click here to go back to the Tech Centre Main Page.