World 1 - Level 5
The Great Wonderland Gateway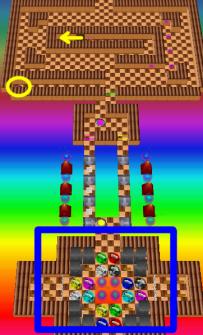 Use Stinky to push the red button (yellow circle) and Loof to activate the green button (along yellow arrow). Act fast though, or you'll be caught by the train of Rainbow Spirits.

Once at the Great Wonderland Gateway, you'll need both Stinky and Loof to enter so that one blocks the teleporter exit for the other - causing a change in direction. Try several combinations to collect all Rainbow Coins - once all coins are collected the side-gate will open allowing for access to the Bonus Coins.