From the start, things are mysterious right from clicking the sign: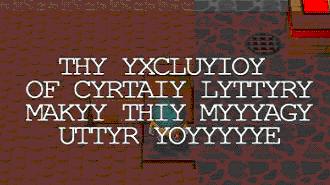 This "puzzle" is extremely hard, and only because there is no key to decode it.
However, after painstakingly decoding it, the message says: THE EXCLUSION OF CERTAIN LETTERS MAKES THIS MESSAGE UTTER NONSENSE
Underlined letters serve a purpose here. E stands for East, S for South, and N for North.
If you move correctly, one tile in each direction when the letter shows up, then two bridges will appear after about a second.
The second message is a lot easier to decode, however: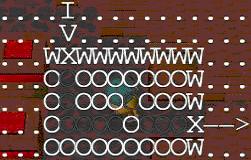 The second message is a map: O stands for floor, W for water, and X's are barrels.
Here's my representation in Paint:

Follow the red path on my image (or the blinking O trail on the original), and if you did it right, the gate to the star will stay up.